Apple released a big update to the Apple TV tvOS operating system Monday, introducing long-awaited features such as Siri dictation for password entry, the ability to create app folders, Bluetooth enhancements and more. Here are the top three features I believe Apple TV users will appreciate most.
1. Siri Dictation
By far the number one complaint of the tvOS platform since it's introduction last fall has been the laborious experience associated with using the remote control's trackpad for password entry on the Apple TV. As of tvOS version 9.2 however, users can finally take advantage of the Siri Remote to enter passwords via voice command. It works like this: Whenever your Apple TV is at a password prompt screen, you can opt to hold the Siri button on the remote and dictate your log-in information, generally one character at a time. Although Siri currently won't attempt to spell names, she will accept and input generic email-centric words such as "at" (the @ sign in an email address), "dot com", "dot net" etc..
2. Additional App Categories, Searchable via Siri
Another shortcoming for the new Apple TV has been the lack of categories on the tvOS App Store. Whereas iOS users can freely explore specific categories of interest such as Music, Utilities, Travel, etc., tvOS has been limited to much broader categories, making it difficult for users to explore for new apps beyond whichever ones Apple chooses to feature in-store. With 9.2, Apple has not only enabled App Store search using the Siri Remote, but has also enabled additional app categories so that users can perform more refined searches when looking for new and interesting apps to download. For example, to search for apps available under the "Utilities" category, you simply hold the Siri button down on the remote and say "Show me utility apps." And while it would of course be optimal for Apple to also enable these additional categories directly on the tvOS Category page itself, the improved Siri search is an important step forward in the right direction for app discovery on the tvOS App Store.
3. App Folders
tvOS 9.2 also enables users to organize their apps with app folders. Folders are created by dragging apps on top of one another, very similar to how you would create app folders on an iPhone or iPad. The procedure goes like this: scroll over an app icon you wish to place in a folder, click on the icon and hold the button down until the app icon begins to jiggle. Once the app begins to jiggle, let go and use the trackpad to position the now-jiggling icon directly on top of another app you wish to group it with. Keep the icon there a moment until a folder is created and then release the trackpad button. tvOS will intuitively name the folder in accordance with the selected app's category; i.e. a folder containing primarily gaming apps will appropriately be labeled "games." Note, however, you can change the name of the folder manually at any time; When in a folder, simply swipe towards the top of the screen and an on-screen keyboard will appear from which you can rename the folder. Neat!
tvOS 9.2 brings additional enhancements to Apple TV, including improved video scrubbing, an updated app switcher, and Bluetooth keyboard support. Users can update to 9.2 by going to Settings/System/Software Updates and clicking "Update Software".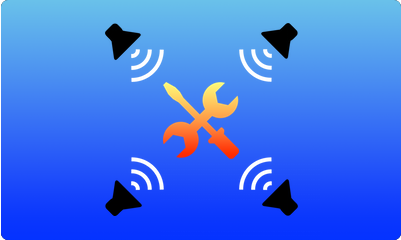 Sponsored by Surround Speaker Check app for tvOS and the new Apple TV. Is your Apple TV ready for surround sound? Search for "Surround Speaker Check" today in the new Apple TV App Store!