With an expected Apple TV announcement right around the corner, there is no shortage of speculation as to what a new Apple TV may bring. A faster processor? Of course! A new remote control? Most likely. But perhaps the hottest topic of late is the prospect that a revised Apple TV may finally get a dedicated app store where users can download games and other apps directly to the Apple TV box itself. In the name of pent-up curiosity, Apple TV Today enlists the help of Pixelmator to create a mock App Store screenshot in order to visually explore some of the possible features we might expect to see in an Apple TV App Store.
A. Rectangular App Icons
The media industry typically use shapes to help distinguish between different styles of products from one another. For example, iTunes music tracks are perfectly square (like a CD case), while iTunes Store movie icons are represented with tall, rectangle icons (like a DVD case). And of course, we all know iOS apps currently use a square icon with rounded corners. For App Store app icons, I believe Apple will differentiate Apple TV app icons from standard iOS apps by continuing to employ the same rectangular shape with rounded corners we see in use on the Apple TV today.
B (not shown). App Folders
The Apple TV home screen is getting pretty crowded as it is, so to accommodate a flood of new apps, we can certainly expect Apple to implement folders of some sort where users will easily be able to located downloaded apps, i.e., a Games folder. Additionally, I can certainly see Apple instituting iOS-style folder creation functionality where users can organize apps into their own folders in order to help manage large or diverse collections of apps.
C. App Categories
Due to the nature of the living room environment, I believe the Apple TV App Store offerings will boil down to two primary categories, Entertainment and Games. However, visual-oriented apps such a Photography and Education could also certainly benefit from a larger screen as well. And while it remains to be seen whether app categories such as Business, Utility or Finance will find a home in the Apple TV App Store, you never can know. Hopefully, Apple will will keep the the doors open and continue to encourage innovative developers who are willing to take risks and Think Different! ;-)
D. Minimalistic User Interface
The next Apple TV is expected to be accompanied by a new remote with some sort of a touch pad in order to allow for more expanded user interactivity with the platform. While this will help facilitate easier navigation of iOS-style tab bars and menus that are sure to appear, I expect Apple will nevertheless encourage developers to keep the amount of on-screen buttons to a minimum, with text and buttons sized appropriately for distance viewing. This is because, unlike an iPhone or iPad screen held relatively close to the face, text items and buttons appearing on a TV screen will be located a distance measured in feet, rather than inches, away from the user's eyes.
E. Improved Search
Siri voice commands are expected to to make an appearance on the Apple TV so as to minimize the amount of typing, scrolling, and button-pushing a user might otherwise have to perform to access their content. Siri's new predictive search features should also make it easier for users to find and purchase content more closely related to their individual interests.
F. Light Color Appearance
A light background is all-but required if Apple is going to foster a wide variety of app icon design for it's new Apple TV App Store. And since the Apple TV has had a black gradient background for years now, I believe Apple's redesign will employ a lighter appearance, if nothing else than for the sake of a much-needed change.
It is widely believed that Apple will announce the new Apple TV alongside new iPhone models at an event occurring during the second week of September.

Jeff Perrin's latest app, "Speaker Check for Apple TV", can be downloaded for free at the Apple App Store. [Direct link]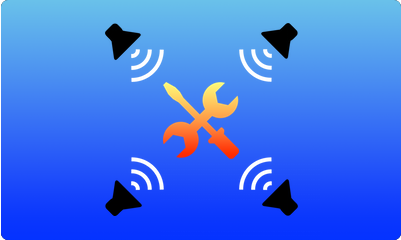 Sponsored by Surround Speaker Check app for tvOS and the new Apple TV. Is your Apple TV ready for surround sound? Search for "Surround Speaker Check" today in the new Apple TV App Store!